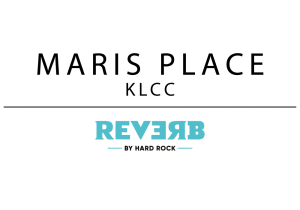 Revolutionising Modern Luxury
MARIS PLACE KLCC is located within the world-famous Golden Triangle of KLCC, Bukit Bintang, and TRX, as well as in close proximity to residences, luxury hotels, medical centres, embassies, and international schools.
MARIS PLACE KLCC has a 6 storeys retail podium consisting of 152,000 sqft, bringing a unique and dynamic lifestyle  experience to everyone. This premier property consist of new, exciting retail shops, culinary food hall, themed restaurants including internationally renowned brands and crowd-pleasers, on-demand wellness and service, and family oriented entertainment option.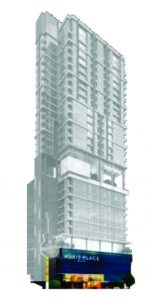 Retails
Despite the numerous shopping malls in the vicinity, residents and hotel guests are treated with the convenience of retail offerings within the development. Yes, Maris Place KLCC features six levels of retail podium at the base of the building. Travel no further for some pick-me-ups and necessities. Or perhaps, keep up to date with the latest fashion statements. The retail podium will feature a tailored mix of tenants for a curated and personalized shopping experience.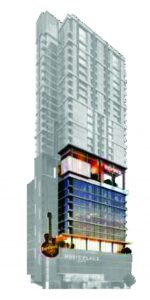 Hotel Suites
Let the music reverberate around you. Reverb by Hard Rock Hotel lies in the heart of Maris Place KLCC. Inspired by the legacy of Hard Rock where music, entertainment and culture collide, Reverb is the latest addition to the Hard Rock repertoire and the first hotel of its kind in Malaysia. Besides the premium bedding, each room is equipped with the latest cutting-edge technology such as smart speakers that allow you to customize and control room settings and request for service, just by using voice commands. The cool and contemporary hotel is also perfectly suited for the business minded with the availability of co-working spaces.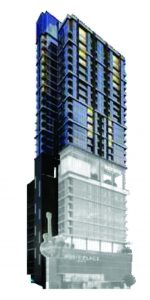 Service Suites
Taking elevated living to new heights, Maris Place KLCC also offers living and communal spaces designed exclusively for the homeowners. The private units combine the exclusivity of city-living with modern, chic and also lifestyle inspired design. Sleek and clutter-free fittings enhance the comfort without sacrificing luxury. Wake up to panoramic view of the Kuala Lumpur city skyline and be truly at home with the ample world-class facilities for an effortless stay.
01.

Project Name:

Maris Place KLCC

02.

Developer:

BT Bina Group Sdn Bhd

03.

Land Title:

Mixed development with retail mall, hotel and service suites

04.

Tenure:

Leasehold (99 years)

05.

Land Size:

1.17 Acres

06.

Location:

Jalan Kia Peng, Kuala Lumpur

07.

Completion:

TBC

08.

No. of Storey:

33 floors

09.

No. of Units:

100 units for retail, 140 units for hotel, 365 units for residential

10.

Build up:

Retail size from 413 sq.ft. to 2,723 sq.ft.
Jalan Kia Peng is a strategically located ancient peaceful road that frequently leaves travelers in awe of the man who gave the road its name. "Choo kia peng" was a British-era businessman, and he is referred to as "Towkay" in numerous Malaysian National Archives records, an honorific term for businessmen. Historically, structures such as the Istana Hinggap Terengganu and Istana Kelantan served as residences for members of royal families during their visits to Kuala Lumpur. And, in today's economy, the infrastructure surrounding magnificent Grade A offices and luxury residences has been improved.
• KLCC Recreation Park                              450m
• Petronas Twin Tower                                  2km
• Kuala Lumpur Tower                                2.7km
• Tun Razak Exchange (TRX)                     2.9km
• Royal Selangor Golf Club                           3km
• Prince Court Medical Centre                 500m
• HSC Healthcare                                        1.9km
• Gleneagles Kuala Lumpur                      3.6km
• Tung Shin Hospital                                  3.7km
• Hospital Tunku Azizah (HTA)                 4.1km
• Kuala Lumpur General Hospital            4.3km
• Embassy of Philippines                            400m
• Embassy of Japan                                      550m
• Singapore High Commission                   1.1km
• Embassy of U.S.A                                      2.2km
• Embassy of China                                     2.3km
• British High Commission                        2.8km
• Embassy of the Republic Of Korea        3.8km
• Pavilion Kuala Lumpur                             1.3km
• The Starhill                                                1.3km
• Fahrenheit 88                                            1.4km
• Intermark Mall                                          1.6km
• Lot 10                                                          1.6km
• Suria KLCC                                                2.4km
• Avenue K Shopping mall                          2.4km
• EtonHouse Malaysia                                 500m
• Sayfol International School                     2.8km
• International School of
Kuala Lumpur                                              4.2km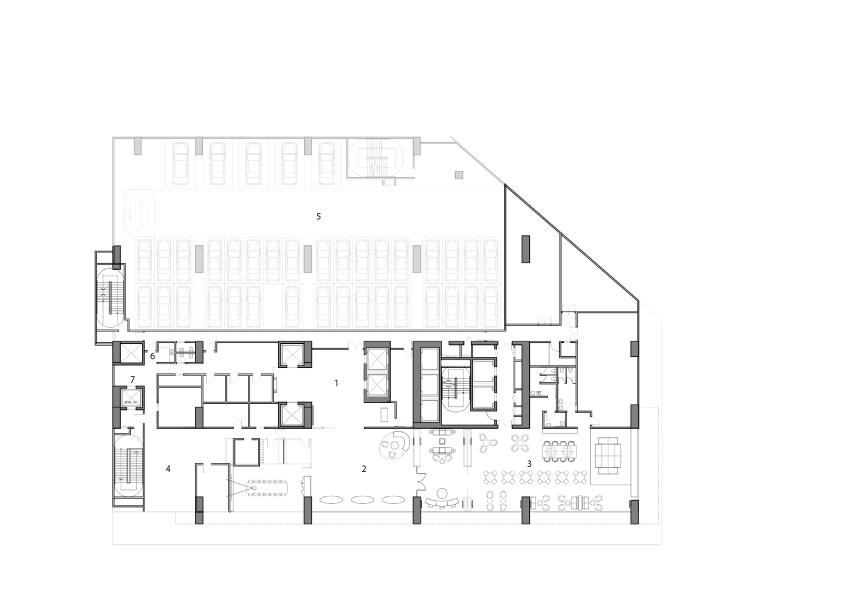 Level 6 : Hotel Reception / Lobby Lounge
Arrival Lobby
Reception Counter
All-Day Dining
Administration Office
Car Park Bays
Washroom
Retail Lift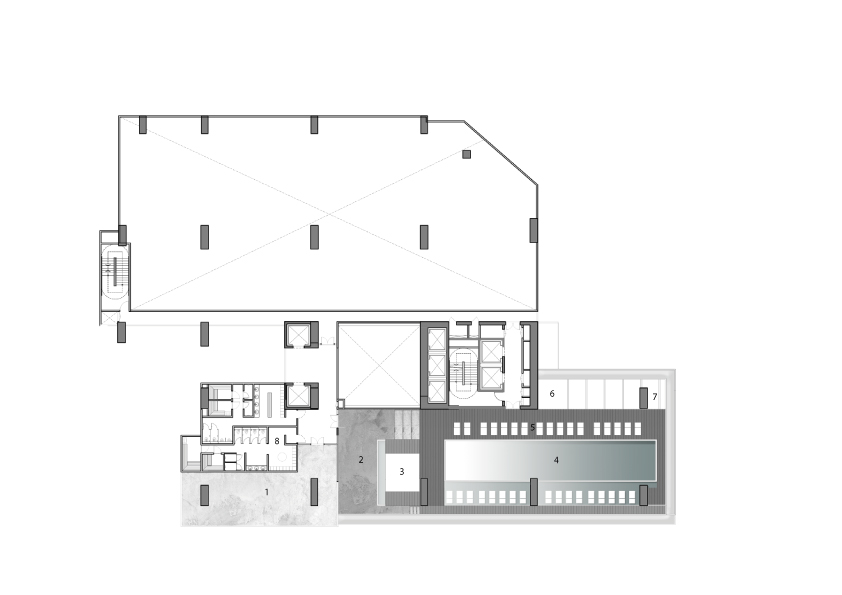 Level 16 : Hotel Facilities Floor
Gymnasium
Jacuzzi Pool Sun Deck
Jacuzzi Pool
Swimming Pool
Sun Deck
Pool Bar
Shower Area
Washroom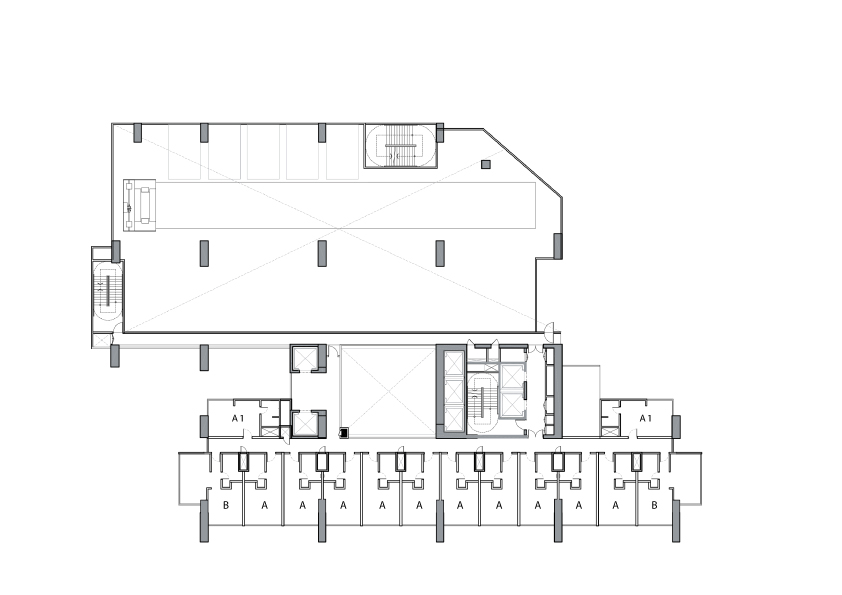 Level 7 - 15 : Hotel Suites
Type A, Type A1, Type B, Type C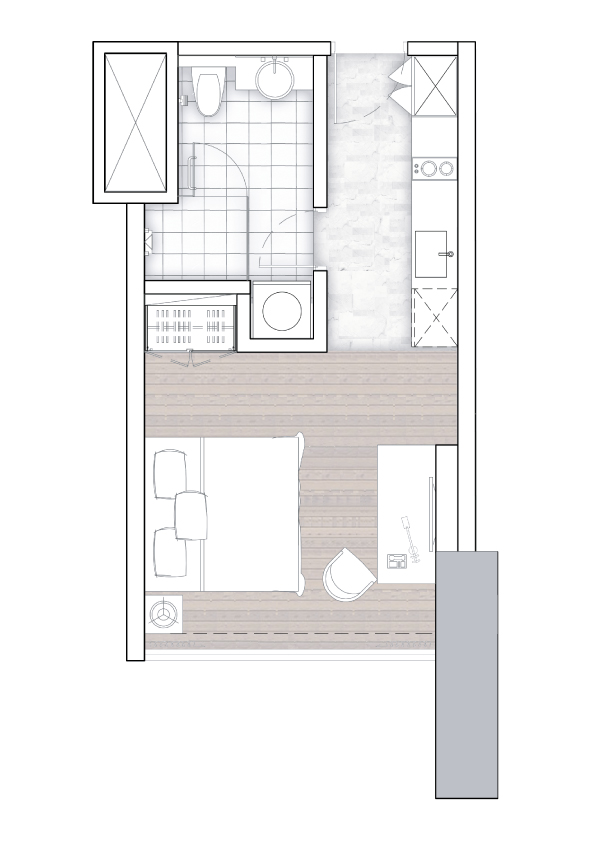 Type A
Standard Suite
350 sqft
KLCC view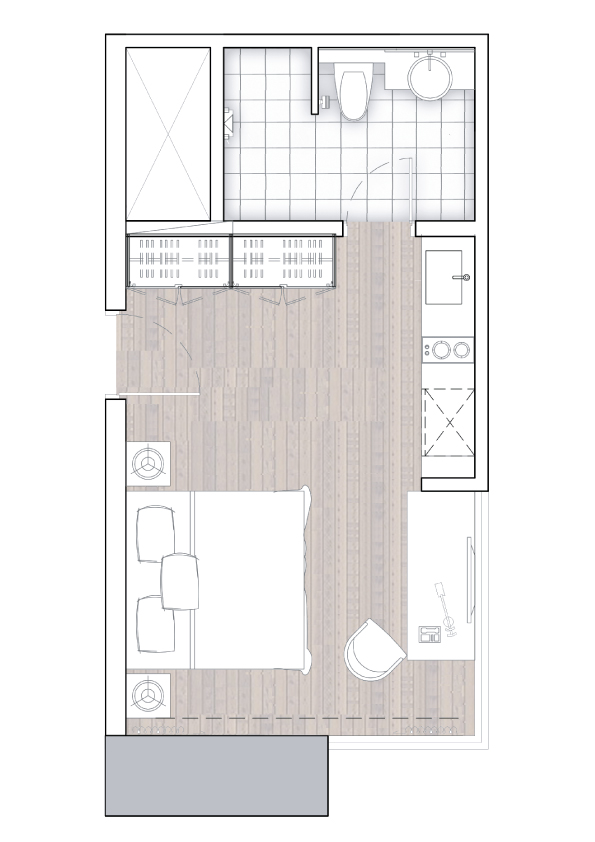 Type A1
Suite
350 sqft
Pavillion KL view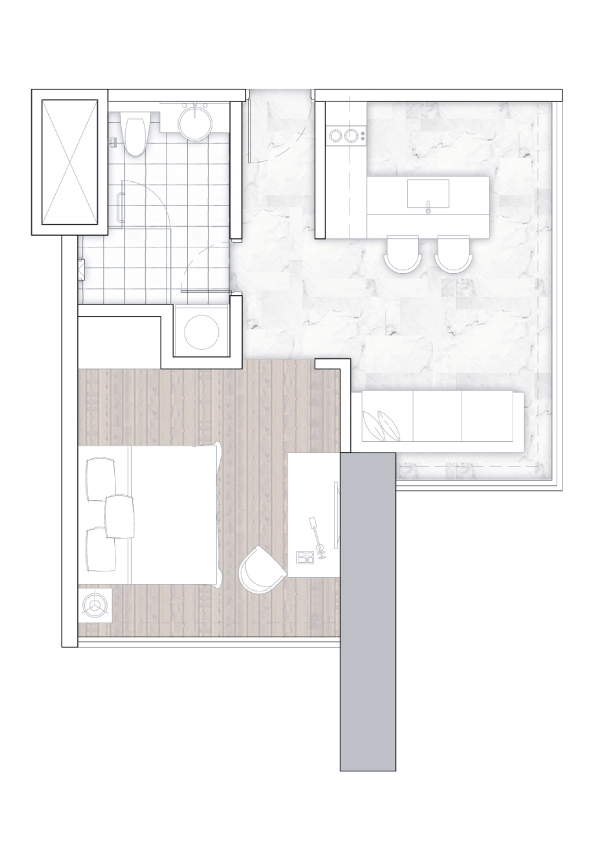 Type B
Corner Suite
450 sqft
KLCC view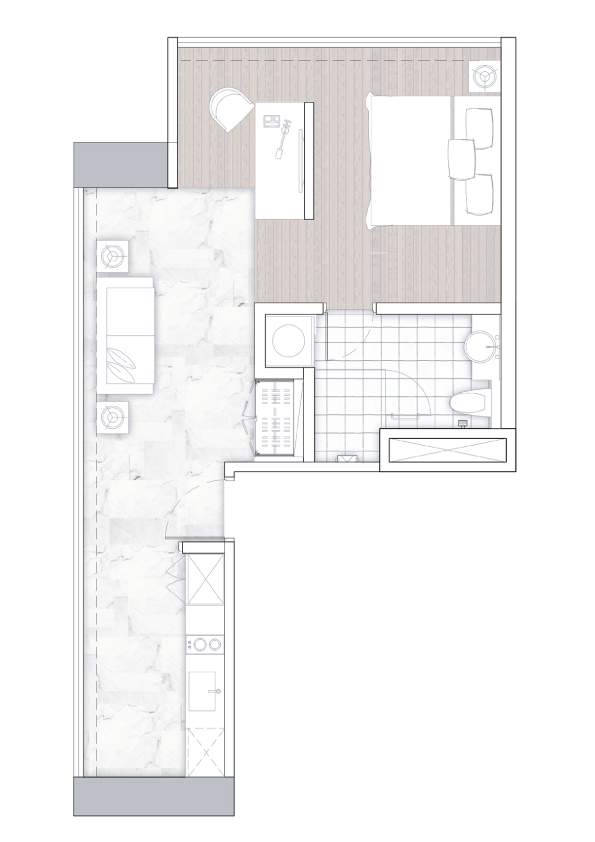 Type C
Corner Suite
887 sqft
KLCC view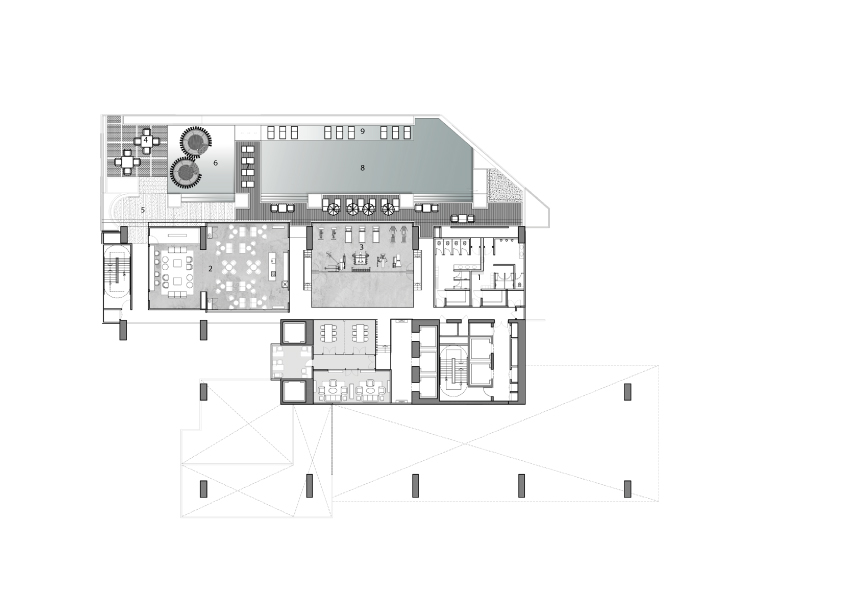 Level 17 : Service Suites Facilities Floor
Sauna & Washroom
Multi Function Hall
Gymnasium
Barbecue / Party Area
Raised Garden Court
Wading Pool
Floating Sun Deck
Swimming Pool
Wet Deck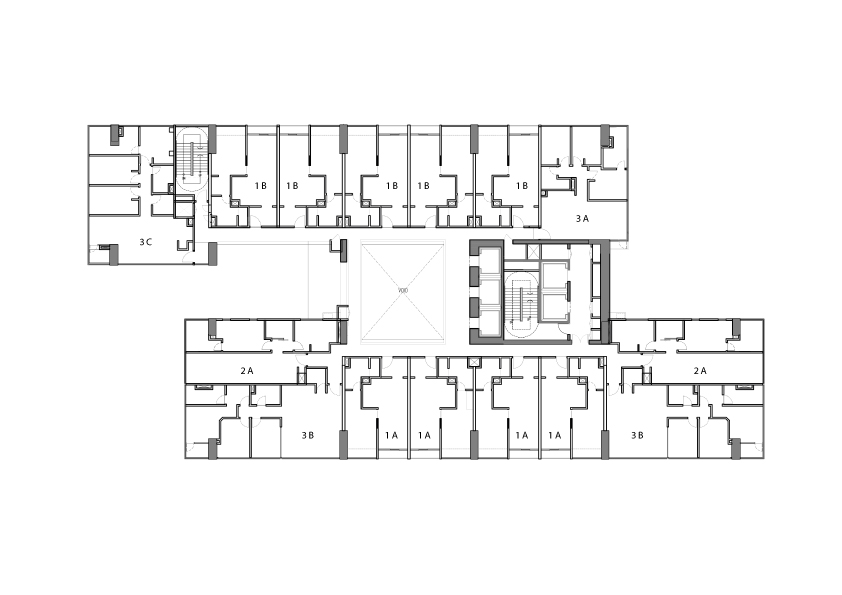 Level 18 - 33 : Service Suites
Type 1A, Type 2A, Type 3A, Type 1B, Type 2B, Type 1C, Type 2C
Level 18 - 33 : Service Suites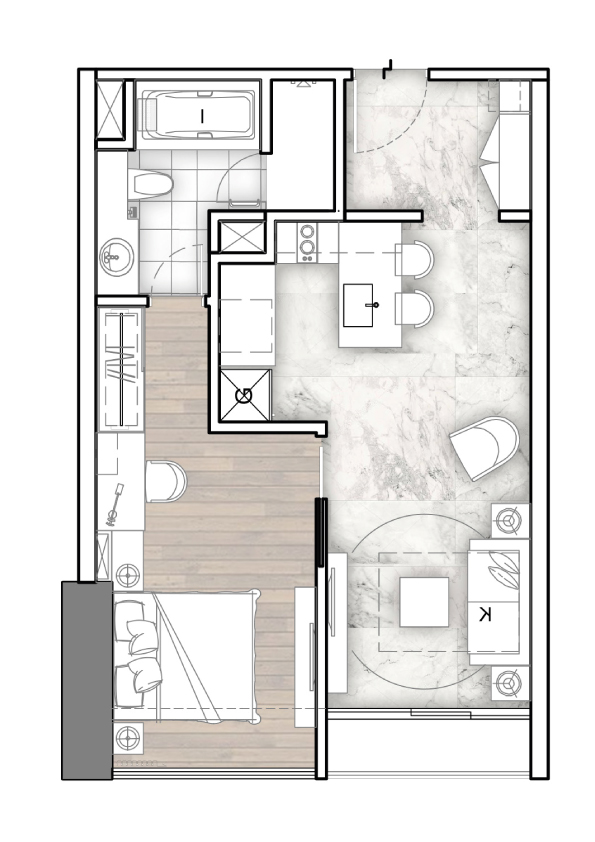 Type 1A
1 Bedroom
554 sqft
KLCC view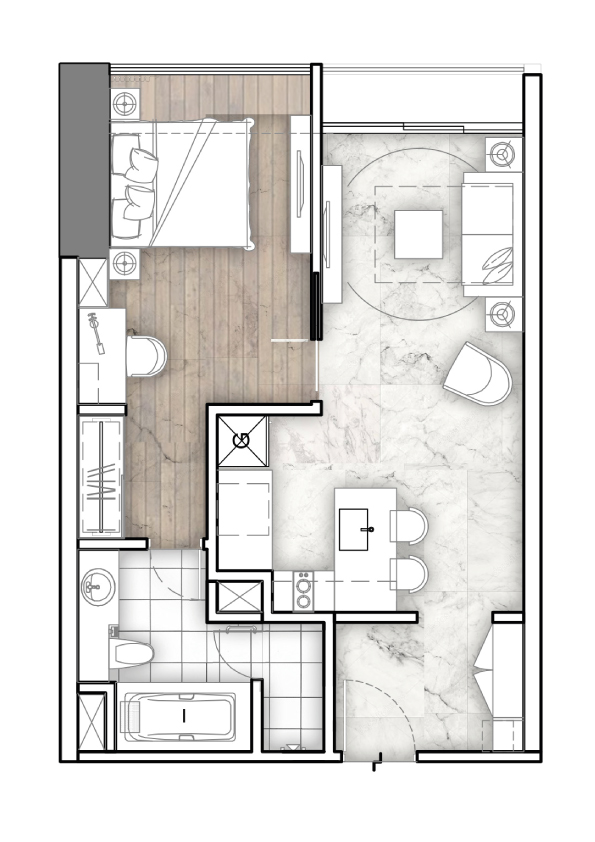 Type 1B
1 Bedroom
465 sqft
Bukit Bintang view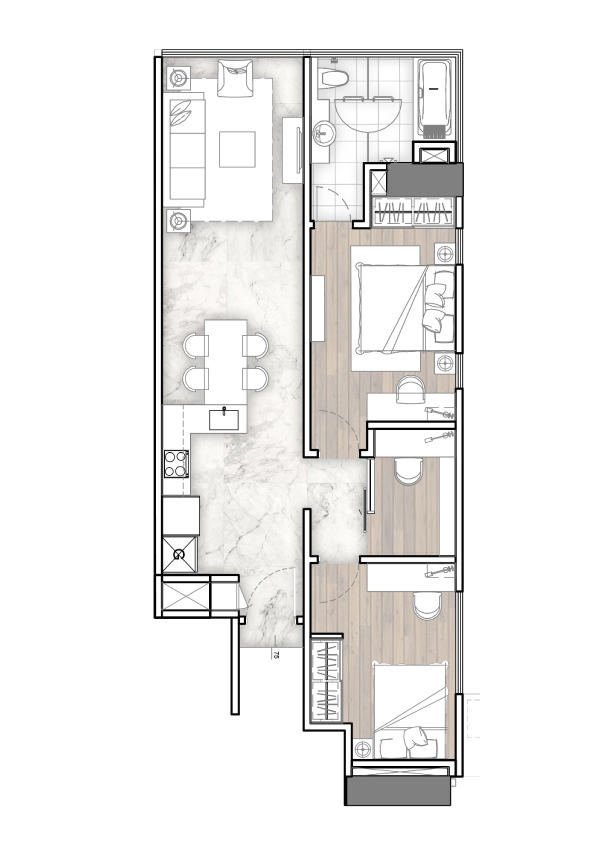 Type 2A
2+1 Bedrooms
658 sqft
Bukit Bintang view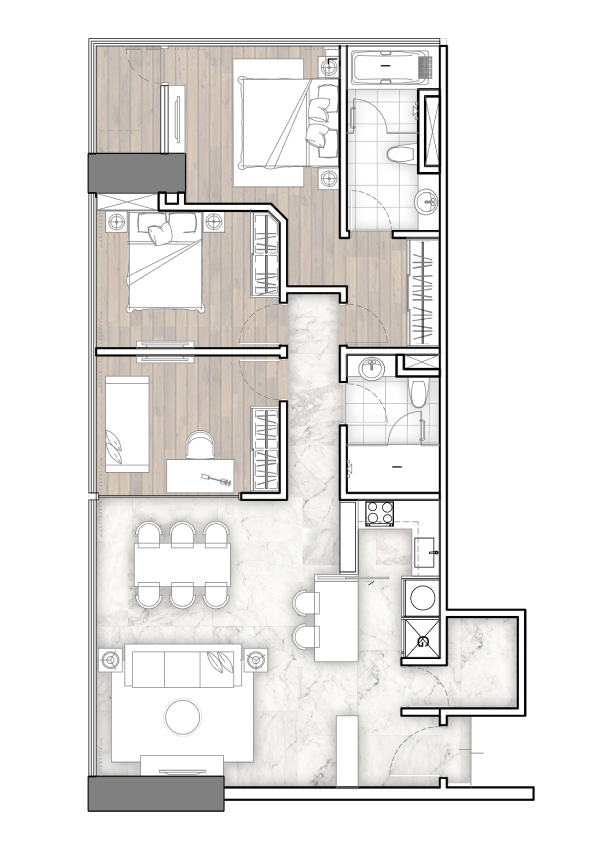 Type 2B
2+1 Bedrooms
714 sqft
Bukit Bintang view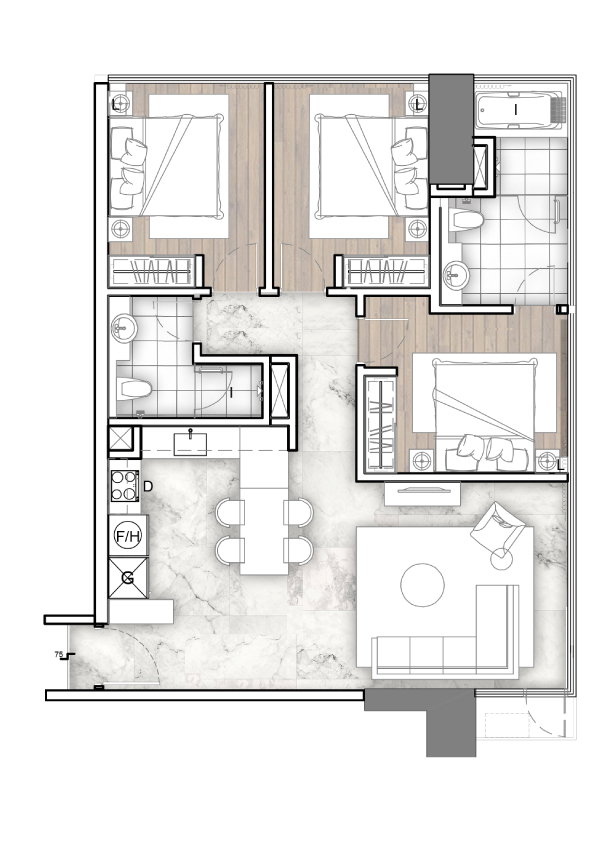 Type 3A
3 Bedrooms
924 sqft
KLCC view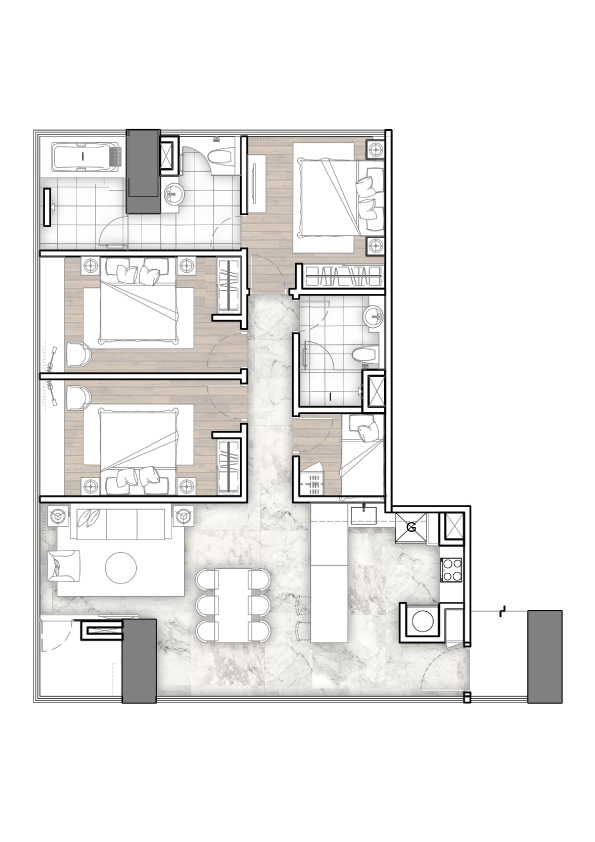 Type 2C
3+1 Bedrooms
765 sqft
KLCC view