Majlis Penghargaan Kepada Pemenang Pingat Emas Bagi Pemain Badminton Malaysia Sukan Paralimpik Tokyo 2020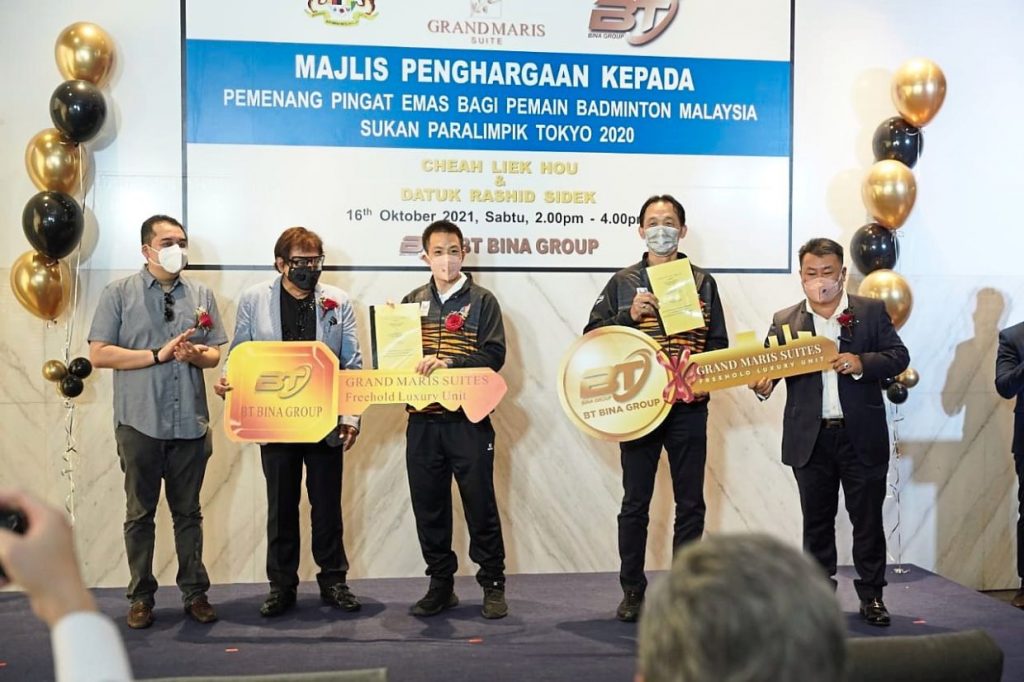 Building more $uccess (October 16)
PETALING JAYA : A luxury condominium and RM1mil as yearly expenses.
Things are just getting better and better for Tokyo Paralympics badminton champion Cheah Liek Hou and his coach Datuk Rashid Sidek.
Although, the Paris Paralympics is still three years away, Liek Hou and Rashid have landed a major three-year sponsorship deal with renowned developer BT Bina Group Sdn Bhd.
The 33-year-old Liek Hou and Rashid are among the four recipients alongside newly-formed professional women's doubles pair Vivian Hoo-Lim Chiew Sien who will benefit from the sponsorship deal until 2024.
BT Bina pledge RM1mil per annum to back them in their preparations to qualify and excel at the Paris Games. Each of them will be allotted RM250,000 every year for the next three years to cover their tournament expenses and allowances.
On top of that, Liek Hou and Rashid have been rewarded with a luxury condominium unit at one of the developers projects, Grand Maris Suites in Bangsar, which is worth RM800,000 each.
An overjoyed Liek Hou said it was a massive early boost in his bid to defend the men's singles SU5 (impairment in upper body) gold he won in Tokyo two months ago.
"I can't thank BT Bina enough for having the faith in me. I will do my best to justify it by bringing back the second gold from Paris," said Liek Hou after putting pen to paper in a brief ceremony yesterday.
"With this financial support, it allows me to plan my tournament schedule well. There will be plenty of action starting from next year with the formation of the BWF World Para Circuit.
"This is important because I can now train and maintain my performance with peace of mind, without budget constraints."
At the Tokyo Paralympics, Liek Hou created history when he defeated world No. 1 and archrival Dheva Anrimusthi from Indonesia to became the first Malaysian gold medallist in badminton as the sport made its debut in the Games.
Vivian and Chiew Sien were not present at the ceremony as they are currently in Europe, competing in a stretch of tournaments there, starting with this week's ongoing Dutch Open in Almere.
*Sources from The Stars